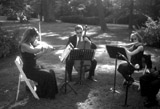 Contact Us
If you have questions or comments about Gracenotes Chamber Music and our services, if you want to look into booking us, or if you would like to RSVP to a live demo reception, please fill out the form below or send e-mail to sarah@gncm.org.

Please indicate the date, time, duration and location of your event if you are interested in booking Gracenotes. We will inform you of our availability and answer any other questions that you may have. Thank you for considering Gracenotes for your special occasion.

Phone (703) 825-7922

Don't forget to tell us how you heard about Gracenotes!